Features of VMware Recovery Tool
Retrieve files from damaged VMKD file of VMware Virtual Machine
Lost, Un-mounted or formatted VMDK file data recovery
No Limitation on File Size: Tested on 150+ VMDK files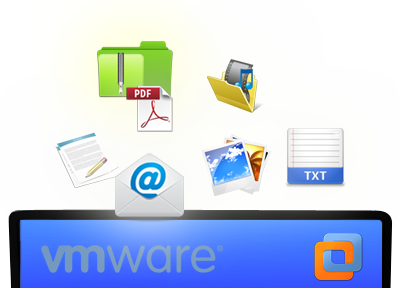 Accomplish VMware Data Recovery Using Magnificent Software
Virtual Machine Disk used to store VM files also known as VMDK file also has chances of getting corrupted and this leads to mismanagement of data in companies. VMware data recovery software on other hand has been built on mechanism to retrieve files from damage VMDK.
More About VMware Virtualization
VMware Virtualization is highly used in small scale as well as large scale industry as an effective measure to deduct high cost and expenses enhancing efficiency by utilizing resources in proper way. VMware virtualization lets users to run multiple Operating Systems on single system and helps to consolidate hardware to get more productivity from limited servers.
VMware file data recovery software has prominent features which enhances VMware recovery task and makes it convenient for users.
Recover data from damaged/corrupted, deleted as well as formatted VMDK file
Tool provides VMDK data recovery of both NTFS/FAT file partition
Scan and get Preview of multiple VMDK files
Restore deleted VMDK file data of Virtual Machine at desired location
Search option to find any file by its name with extension, create date, etc
Brief Synopsis of Tool's Eminent Features

VMDK File Data Recovery
VMware data recovery software provides a complete recovery of important data from multiple VMDK files beating corruption issues. Tool will scan entire Virtual machine VMDK records and recover data of VMDK file. Deleted and formatted data can also be recovered via this application.

Search Option to Scan Virtual Machine
Choose "Scan Virtual Machine" and give path to scan folder. If you don't know the path then opt for "Search Virtual Machine":
All Drive search Virtual machine in all system drives.
Specific Drive search VM from specific drive.
Get Preview of Thorough Data
One tool repair VMDK file corruption, it displays a detailed preview of all recovered records. All files will be recovered retaining all the technical properties like; size, creation and modification date, name, etc. But, this VMware file data recovery will only let you view text files (.xml, .log, .dir, etc) and image file formats (.jpg, .gif, .png, etc).

Search Particular File in VMDK
VMDK data recovery tool has been incorporated with advance search options let you search specific file with its extension in VMDK. Tool integrates filter option associated with Created, Modified, and Last Accessed dates to recover data of VMDK files. You can also utilize date filter option to get data records within that selected date./p>

Provision of Dual Extraction Option
You have two options to extract VMware Virtual disk data and stored in various location. Choose as per your requirement:
Extract Data: Extract and save all recovered data in desired location on system.
Extract as Original: Extract and restore VMDK file data to previous location.

Selected Folders Restoration
VMDK file data recovery application provides you opportunity to export desired files/folders and data of VMDK files. Without any Virtual environment installation you can simply check the desired files and only those files or folders of VMDK files will get exported to desired path. Tool also permits to restore deleted VMDK file data.

Retain Folder Structure Flawlessly
When all files/folders of VMDK get restored our tool maintains this folder structure as it was earlier. Our VMware recovery tool performs read-only operation on selected file and assures that while extracting data it will make no changes to sequence and retain all properties of data files.

Save Entire Extraction Report
As soon as the data files are recovered and exported, a dialogue-box of extraction report will be displayed on the screen. This report can be saved as CSV file for future reference. This report will have details of number of Virtual Machines, destination and source information, etc.
Download Free VMware Data Recovery Tool
To evaluate VMware data recovery software prior purchase it is recommended to download free demo version which will demonstrate all the procedure to follow for repair VMDK file corruption and recover data. This demo version has some restriction of usage and will not let you save the recovered data but will show up all the functions and steps of software.
Purchase Full Version to Attain Max Benefits
After satisfied with tool's working about how to retrieve files from damage VMDK, you can go for Licensed VMware recovery software to accommodate full benefits. This version comes in different editions. Choose any of the editions to extract VMware Virtual disk records. This version will recover VMDK file items and also let you save the recovered data files.
Demo and Full License Version
Trial Version
FEATURES
Browse Bulk VMDK File to Scan
Enable Options: All Drives and Specific Drive
Save Scanned Report in CSV file
Preview Recovered VMDK Data
Option to Search File from VMDK
Demo version doesn't give Created, Modified & Last Access Date Option
Demo version doesn't allow to Export Extraction files Report on Desired Path
Demo version unable to Extract & Save VMware VMDK Data

Full Version
FEATURES
Browse Bulk VMDK File to Scan
Enable Options: All Drives and Specific Drive
Save Scanned Report in CSV file
Preview Recovered VMDK Data
Option to Search File from VMDK
Full licensed version gives Created, Modified & Last Access Date Option
Full licensed version allows to Export Extraction files Report on Desired Path
Full licensed version able to Extract & Save VMware VMDK Data

Live Video of VMware Recovery Software
Have a look at video of VMware recovery software to know how this tool repair and recover VMDK file data. Play this Live video and see entire steps of VMware file recovery method.
Screenshots of VMware Recovery Tool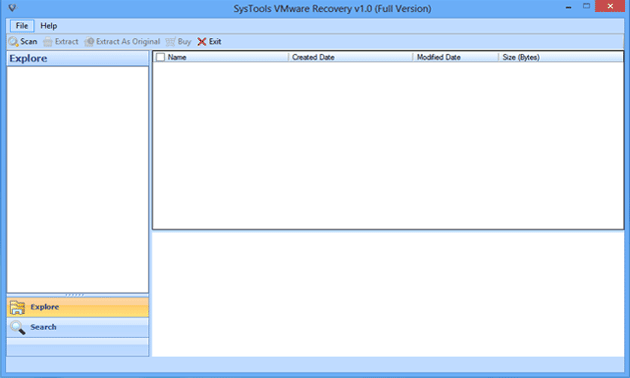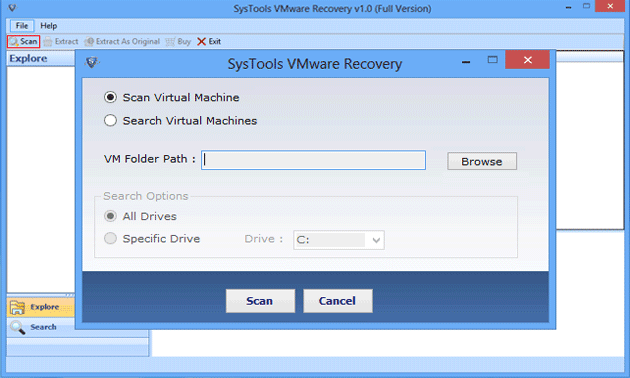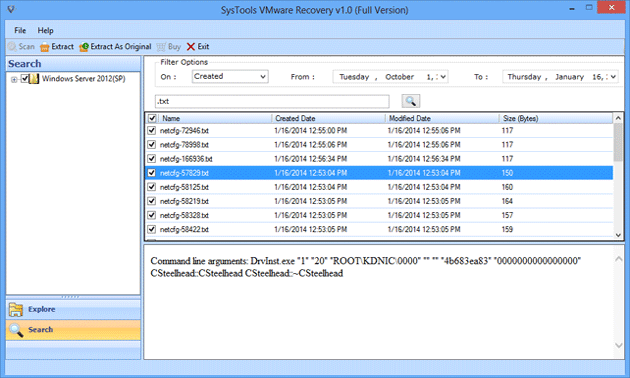 Other Recommended Tools

Hyper-V Recovery tool hleps to scan corrupt VHD and recovers the data from it. Tool is able to restore data from deleted, lost, formatted VHD Files.

Powerful Hard Drive Recovery software completley recover permanently deleted, inaccessible and formatted partition data from hard disk.

Simply restore Deleted, corrupted, lost, and formatted data from FAT or NTFS formatted Pen drive along with attributes by using Pen drive recovery tool.