Are you looking forward for a helpful suggestion on the topic how to use VHD Dual-boot Windows 8 in Windows 7 PC?
Here you go with the useful tip on how to mount VHD file created from Hyper-V application on the new Windows 8 platform. Steps on creating VHD on Windows 8 is very easy, but the trouble comes when the VHD file become inaccessible and is corrupted. Here we are suggesting you with the two solutions as:
How to use dual boot Windows 8 from VHD using Windows 7 PC
How to recover inaccessible VHD file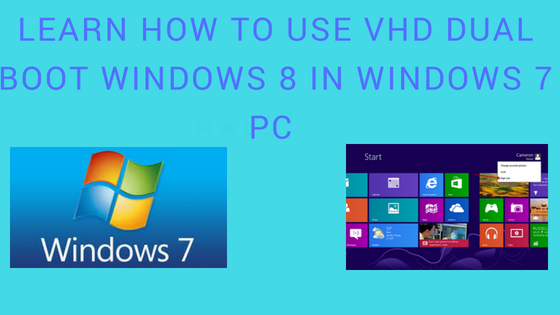 Steps to use a Virtual Hard Drive (VHD) to boot Windows 8
The need of the user to use VHD on Windows 8 may be because of many reasons like the attraction towards newly introduced OS or because of that it is Windows 8 OS that is available and data is to accessed without any mess. With the limitation that you can't shrink your existing disk partition nor upgrade your built-in hard drive the choice to go for dual-boot Windows 8 in Windows 7 comes around. Boot Windows 8 from a VHD file is the best idea suggested and the steps to be taken for this process is quite easy.
Precaution: Take complete backup of the PC you are working on so that in case if the effort to use dual-boot VHD on Windows 8 in Windows 7 PC fails then the data will be safe enough
Note: In the Windows 7 OS (64 bit) with Enterprise edition get the Windows 7 USB/DVD download tool, a USB flash drive, and a Windows 8 installation media. Ensure you have at least 20GB free space on PC hard disk. Get the system drivers encryption free and then continue to the process of Windows 8 via VHD installation.
In case if the VHD file you carry is unable to be mounted on the new platform then all the aim to use VHD to dual-boot Windows 8 in Windows 7 PC will fail. Here we suggest you what to do in case if the VHD file fails to respond to the comments meant to install Windows 8 using it.
Reasons of VHD File Corruption
The user has to face the VHD file corruption error because of some software, hardware, or operating system issue. Here are some reasons of that results in the VHD file corruption.
Virus Attacks: Its the main cause of VHD file corruption. Virus infection is a computer program that badly damages or affects the files and other software or applications saved on the system.
Error in Software: Sometimes the user entered the wrong command or action the software get infected or may crash immediately. Because of some small errors in a virtual machine that leads to the system crash or VHD file corruption.
Storage Media Failure: Virtual hard drive file is a single hard disk and had the ability to get saved on your host PC system. If any corruption occurs in the storage media then it can result in any inaccessibility of files stored on storage media and as well as VHD file.
Accidental System Shutdown: VHD file may also be corrupted if any running system gets abruptly or forcefully shutdown then it may cause damage to software and hardware devices. In case if the virtual machine is not closed properly then it may also cause VHD file corruption.
Human mistakes: VHD files may also be corrupted because of accidental or removal of saved files, clearing system registry, or running system gets forcefully shut down, because of incorrect disk management are the major issues of human errors.
Method to Recover VHD file
The user can repair the virtual hard drive file by creating new virtual machine after that the user has to add the damage VHD file to the newly created Virtual machine and then compact it. Follow the entire steps to recover the VHD file data manually.
First, the user has to create the new virtual server and attach new hard disk.
Click on the Setting option and add a newly created hard disk.
Now Browse the corrupt VHD file which was inaccessible previously.
Click on the Virtual Disk Wizard and then select the compact option. And mark the checkbox showing Convert it to fixed size virtual hard disk.
Save this VHD file by new name and the user can also save the file original name.
Automated Solution to Recover the VHD File
Corruption in Virtual Disk will be reported due to many reasons and thus user need a perfect solution that can be a successful answer for the query of how to repair VHD file after any kind of corruption issues reported. Hyper-V recovery software is an expert solution approved by experts in the field to recover data from VHD file in a smart and efficient way.
This software is at reasonable priced and easy to use tool as per the feedback shared by many users around, so any user can go for a try to check the software efficiency.
Last Words
Sometimes the user wants to use VHD dual-boot windows 8 in windows 7 PC and if the VHD file got corrupted then this article explains how to recover the VHD file data. We have discussed the various possible reasons for corruption. We have also given the manual and automated approach to solve this problem.